Thinking of taking an exotic holiday? How about Seminyak as your perfect destination?
You will find everything you could dream of, sun, stunning beaches, mountains, rice fields, temples, breathtaking views of sunset for the romantically inclined, not to mention the myriad of recreational sports, sights and activities at your fingertips.
Seminyak is by far one of the more sophisticated destinations in Bali, renown for its fine dining, world class beauty spas, chic boutiques, art galleries, designer shops, and even a modern shopping complex with more designer shops, quaint cafes, and beauty spas, and a bustling night life for the burgeoning teenager, there's no room for boredom here.
Something for Everyone
Seminyak is brimming with the most beautiful villas in Bali. There's something to suit everyone's pocket and preference. Luxury or affordable, you need not compromise on quality. The standards are equally as high for every villa. Some come with private butler, access to your own driver, jacuzzi and cinema room, and an onsite fitness room. Bali Villas, Seminyak are ideal for families, travelling parties or groups of friends.
For those travelling with children, you can relax and enjoy a fabulous holiday. Pool fences and other children-friendly amenities are provided such as high chairs, folding beds, board games, video games, wide screen TV, colouring books, children's menus, a play area, you name it, it's there.
Villas range from one to six bedrooms was a capacity to accommodate up to 15 people, depending on your needs. You can choose one with panoramic views of rolling rice paddies in the distance; or you can have a beach view all set in beautifully manicured grounds. There are all types of styles available from rustic to traditional, contemporary, or modernwith generous interiors, natural light during the day and ambient lighting at night.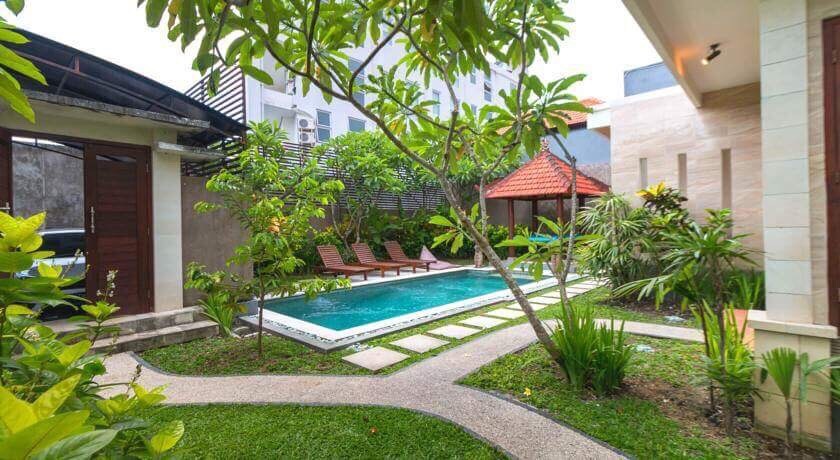 Must-see
Your holiday in Bali will not be complete without seeing some the magnificent sights on offer, and as Seminyak is well placed for access to nearby Ubud, Kuta, Gianyar, Kintamani and Canggu, you can visit the majestic Uluwatu Temple in Pura Luhur hanging off a large rugged cliff,the Pura Tanah Lotwith its amazing rock formation with tranquil surroundings and linked to Balinese mythology. Then there is the picturesque Pura Ulun Danu temple, which is resting at the edge of Lake Bratan.
If you are a coffee enthusiast, this is the right place for you. Spend an afternoon coffee and tea tasting whilst enjoying views of the coffee plantation. On the other hand if you are feeling courageous, take up whitewater rafting, or hone your surfing skills at a surfing school, take a hike and climb 1700 metres and see the active volcano in Kintamani.
There is always plenty for the children to do. Top on the list would be the Waterbom Park in Kuta where they can splash to their hearts' content, Bounce Bali Trampoline Centre in Canggu;another favourite would be the Upside Down House, the dolphins in Lovina, the Monkey Forest or the Butterfly Park in Ubud, and the Safari and Marine Park in Kemenuh are great options for them.
So, all that's left to do now is to book your perfect villa and you will be on way to a holiday of lifetime, Perhaps the first of many to this charming location.